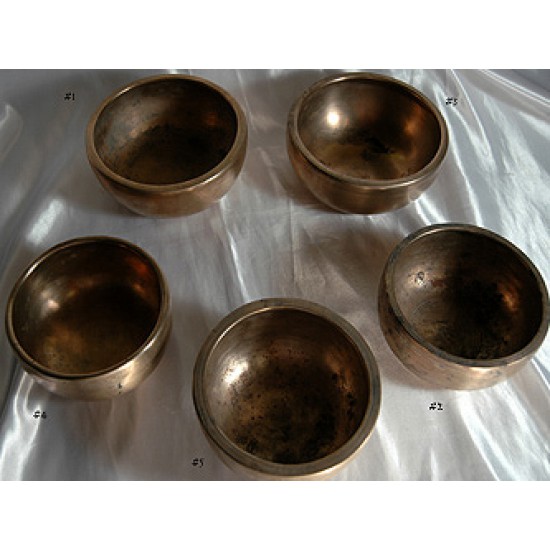 Singing Bowls: Master Quality - Small Thadobati's
Stock:

In Stock

Model:

974

SKU:

974
Sacred Sound Instruments
Description
The Thadobati Bowls are from the Tibetan/Bhutanese Border, they are a minimum of 90 years old - their exact age are unknown. Thadobati Bowls have clear, sharp overtones and penetrating, long sound duration that assist in physical grounding and profound Healing.
You can identify a Thadobati by it's shape: Flat bottom with high rising sides.
They are overall powerful physical healing tools. In their smaller version they are useful in conjunction with the third eye and soma chakra. Small and large Thadobati Bowls share the same anatomy. They are also a powerful tool when used for Meditation to help a person who is more etheric and ungrounded to connect with the earth in the here and now.
The Thadobati is associated with the Green Tara, the female Buddha of the Physical Realm, this realm. When the Thadobati is struck it can be likened to as if an energetic doorway opens in the first chakra for the Green Tara to enter.
These ancient sacred sound objects were consciously created by monks as part of a spiritual path and used for physical/spiritual healing as well as ritual ceremonies. The Bowls we offer are hundreds of years old and made of a seven metal alloy called Bell Metal consisting of Gold, Silver, Copper, Tin, Mercury, Lead and Iron - Iron being the most auspicious. Many of the bowls have 'sky metal' iron mixed into them - otherwise known as meteorite, the purest form of iron on this planet. These bowls are collected with honor by Tibetan in Tibet and Nepal especially for us. Note: Each Bowl is unique and weigh differently and as such must be priced individually.
The Master Quality Thadobati Tibetan Bowls were selected from a large collection of hundreds of singing bowls and ancient instruments that were accumulated over 25 years in Nepal in a private collection. As Nepal borders Tibet many Tibetan artifacts have made their way across the Himalayas into Nepal and recently I had an opportunity to listen to and selected a small number to represent. All the Bowls I offer are extraordinary yet these are simply the best of the best. I was required to purchase these per item resulting in their prices being twice as much compared to our normal exceptional quality Bowls.
Small Thadobati Bowls vary in size but not cost - $250.00 each plus shipping.
A video call can be arranged to hear and see a Bowl of interest.