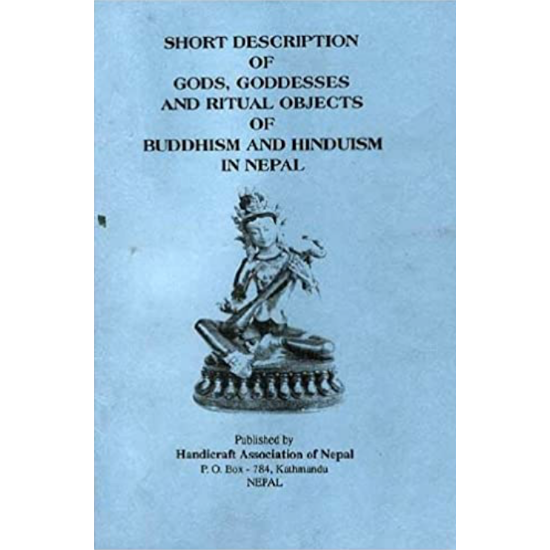 Book: Gods, Goddesses & Ritual Objects
Stock:

In Stock

Model:

999

Weight:

10.00oz

Dimensions:

7.00in x 5.00in x 0.00in

SKU:

999

Artifact reference Books & Prayer Flags
Description
Book: Gods, Goddesses & Ritual Objects

77 page useful illustrated reference guide to the the world of Buddhist & Hindu ritual artifacts, Gods & Goddesses.
Published by Handicraft Association of Nepal
Reviews from Amazon:
One of a kind.
This was a great introduction into the different types of Buddhism (north and south) and ritual objects associated with the various practices. Very easy pamphlet style read. There are black and white pictures or illustrations for most of the items as well as a brief description of what they are used for from postures and mudras to the significance of the surrounding objects. Deities vary from Shiva's Nataraja to Goddess Tara. Have a feeling that this will not be the first or last copy I own. Either it will become worn down fairly quickly from over use, or I will end up passing it on because the contents are too vital to keep all to myself and not share.
Chandra
I saw this booklet at a friends house in Denmark. He had bought it in Sikkim in India. Guess what - I found it on Amazon - and had a copy just one or two weeks later. Isn't it a wonderful small world! In regards to the book it self it is a product of the Handicraft ASsociation of Nepal, and they have done a great job of showing 100+ Buddha, deity and mudra illustrations with several lines of religious explanation for each.
Juri Christensen.