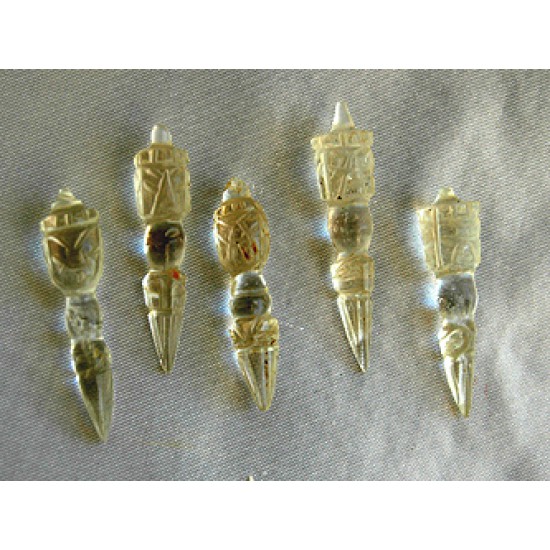 Phurpa: Quartz, Small
Stock:

In Stock

Model:

892

SKU:

892

Ritual objects, musical, Mask, Phurpa, knife
Description
Phurpa: Quartz, Small
The Phurpa transforms anger into understanding; loathing into love; negative energy into positive forces.
Ideal for activating energy and transmuting negative energy to positive energy.
Made of Himalayan quartz, A Phurpa/Phurba is an ancient Himalayan 3 sided (triple bladed) ritual dagger designed as a tool to pin down psychic attacks or negative energy and transmutes it to positive energy. The Phurpa symbolizes the powerful Buddha activity of the wrathful deity Vajrakilaya with the winged horse at the crow carrying Mantras up into the Universe. In vibrational sound healing it is useful in lifting hindrances from the energy channels to promote healing and is ideal for activating key energy areas during vibrational healing or meditation. It also can be used in energy healing work as a laser to remove energy from the outside of a persons aura. In the home it is positioned in the front hall way to a residence pointing towards the front door to protect the residence and the occupants from harmful energy entering.
Size: 1.25" long x .25" across (price for each)