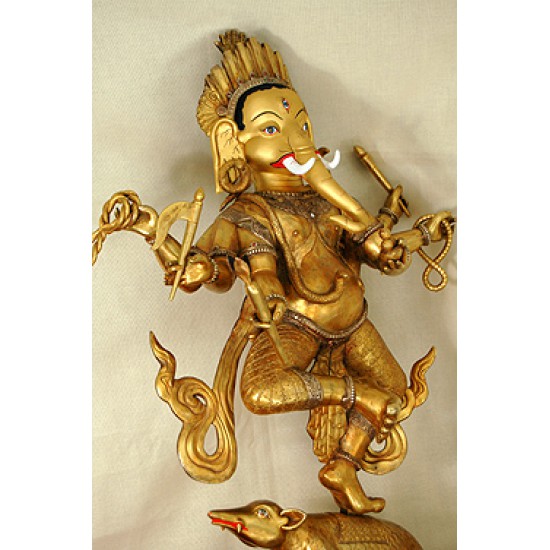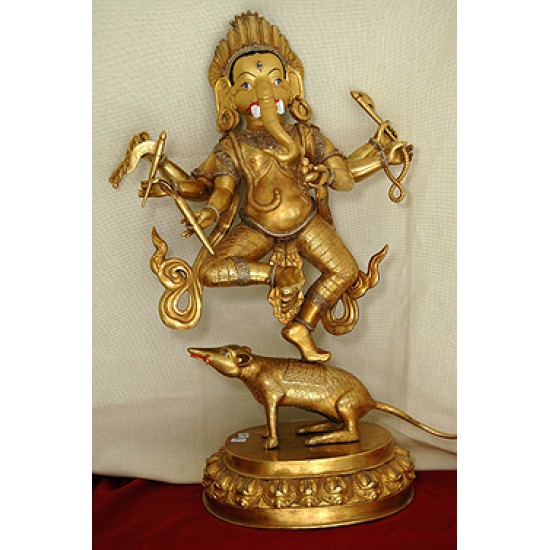 Ganesh Statue: Silver & Gold, Nepal, 19th Century
Stock:

In Stock

Model:

760

Weight:

10.00lb

Dimensions:

0.00in x 17.00in x 29.00in

SKU:

760

Hindu Goddesses & Gods
Description
Ganesh Statue: Silver & Gold, Nepal, 19th Century
Ganesh: The elephant headed god of wisdom, success and joy is the defender of individuals,
the remover of obstacles and the great protector, especially of women.
This representation of Ganesh is particularly joyful with great detail and devotional craft.
He is composed of Copper, Gold and Silver making him heavy yet he easily balances
on the ball of one foot. He has great presence.
Note: He is 19th century however his 24K face has been recently restored.
Ganesh is a part of the Buddhist and Hindu tradition.
'Wherever there is Ganesh, there is Success and Prosperity ~
Wherever there is Success and Prosperity ~ there is Sri Ganesh.
Size: Large: 29" tall x 17" across x 11" deep

(04/08/#1) - Larger images are available upon request.