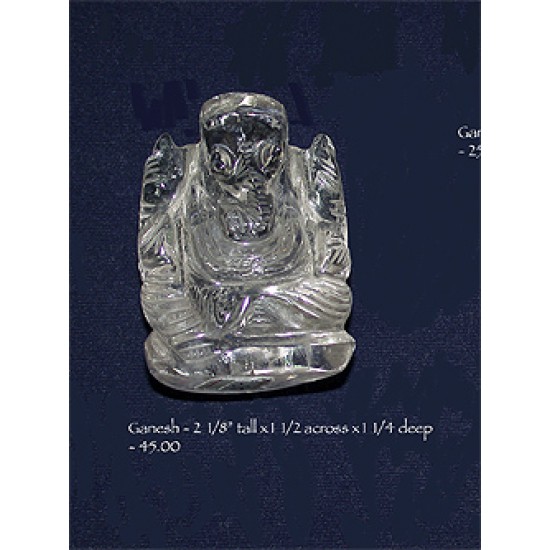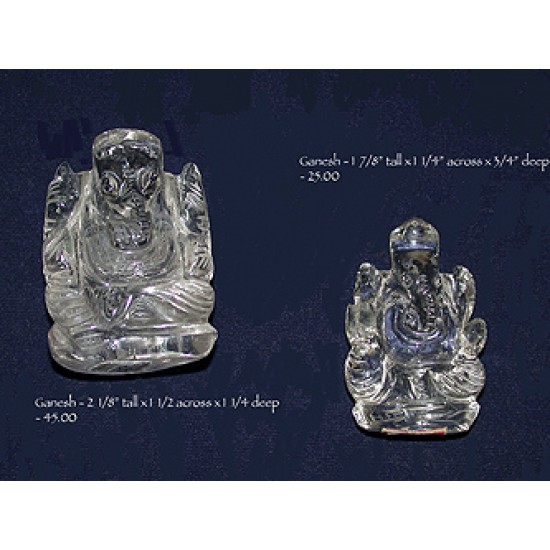 Ganesh Statue: Small / Quartz, Nepal, 21st Century
Stock:

In Stock

Model:

524

SKU:

524

Hindu Goddesses & Gods
Description
Ganesh Statue: Small / Quartz, Nepal, 21st Century

Ganesh: Buddhist/Hindu elephant headed Bodhisattva of Wisdom, Success and Joy.
He is the defender of individuals, particularly of women, and the remover of obstacles.
'Wherever there is Ganesh, there is Success and Prosperity ~ Wherever there is Success and Prosperity ~ there is Sri Ganesh.
Made of the highest quality Himalayan quartz, they are all carved of quartz selected for it's presence and power. Made from a single solid piece of natural quartz found in the Ganesh Himal Mountain range which borders Tibet and north-central Nepal. At elevations of over 15,000 feet high mining is difficult, expert cutting even more so; the craftsmanship is stunning.
Size: 2.5" tall x 1.75" across $85.00 / 2" tall x 1.75" across - $95.00
Larger photos are available upon request