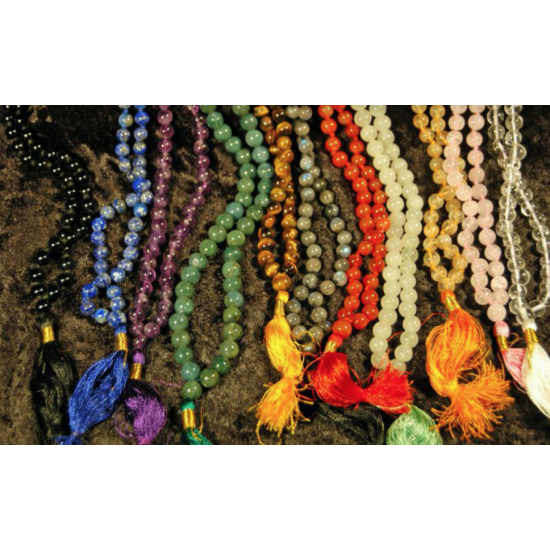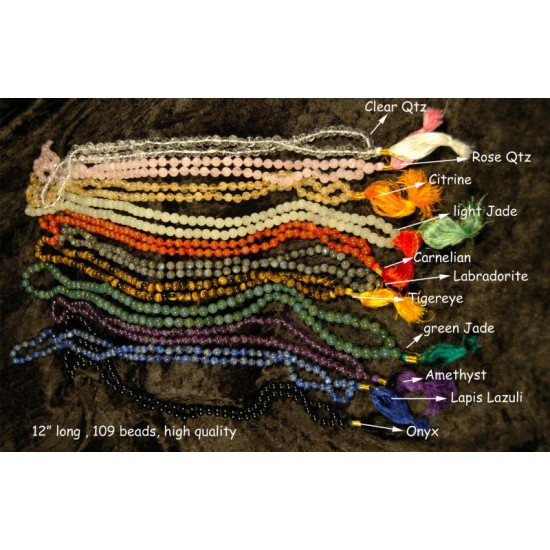 Mala Prayer Beads: Various Gemstones
Stock:

In Stock

Model:

1183

SKU:

1183

Jewelry, Healing, traditional
Description
Mala Prayer Beads: Various Gemstones

Each is hand made, composed of 109 beads, 24 inches in circumference with stunning energy.
Clear Quartz: Considered a "master healer" it amplifies energy, it also absorbs negative energy from the wearer and aids concentration and memory. When placed next to another crystal or mineral it amplifies the properties of the mineral.

Rose quartz: Promotes peace, happiness, inspires compassion and unconditional love while supporting emotional and relationship healing.

Citrine: Removes fear, protection and enhances positivity and optimism, also used to assist in manifesting financial abundance and opportunities.

Jade (light green): Elevates wisdom, love and money Jade - enhances healing, longevity and protection.
Carnelian: Courage, endurance, energy, leadership, motivation and protection.Labadorite: Stimulates will, psychic abilities and transformation
Tiger Eye: Attracts money, protection and luck, particularly useful for healing psychosomatic illnesses, dispelling fear and anxiety.
Amethyst: Strengthens healing, happiness, love and protects its wearer.
Lapis Lazuli: Promotes Joy, healing and courage, protections from psychic attacks, bringing deep peace, harmony, reveals inner truth, honesty, compassion, self - awareness, and self - expression.
Onyx: Enriches magic, protection and courage, strength, focus, and willpower
Garnet: It helps you let go of old behavior patterns and boosts self-confidence. Also a great protector from negative energy.
White Rainbow: Combination of many of the above.
Special purchase - priced at $30.00 each.