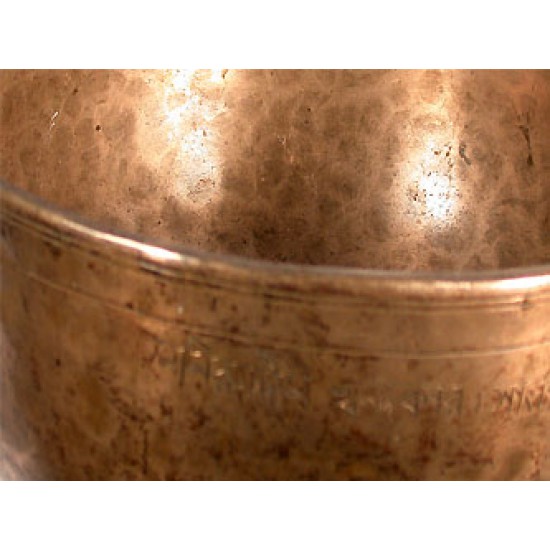 Singing Bowl: Jambati, Mantra, Tibet, 19th Century
Stock:

In Stock

Model:

335

SKU:

335
Sacred Sound Instruments
Description
Singing Bowl, Jambati, Mantra, Tibet, 19th Century.
The Jambati Bowls are from the Eastern Plateau of Tibet, they are a minimum of 100 years old - their exact age are unknown. These are very rare very special Singing Bowls from Tibet. I have specialized in older Bowls for many years - Mantra Bowls are rare. With penetrating voices, Jambati's have remarkable expansive overtones and long vocal duration. The Jambati is associated with the The White Tara, the female Buddha representing Healing, Awareness and Transcendental Wisdom. When the Jambati is struck or sung it can be likened to as if an energetic doorway opens in the crown chakra and the White Tara can enter.

You can identify a Jambati by its shape: Round bottom with high curving sides. These are very special and sort after Singing Bowls. They are stunningly beautiful in sound, presence and their ability to alter consciousness into realms of Transcendental Wisdom. Very useful within vibrational healing techniques to create an environment of balance and harmony in which healing will occur. There are slight differences within each bowl such as the thickness of the lip.
These ancient sacred sound objects were consciously created by monks as part of a spiritual path and used for physical/spiritual healing as well as ritual ceremonies. The Bowls we offer are hundreds of years old and made of a seven metal alloy called Bell Metal consisting of Gold, Silver, Copper, Tin, Mercury, Lead and Iron - Iron being the most auspicious. Many of the bowls have 'sky metal' iron mixed into them - otherwise known as meteorite, the purest form of iron on this planet. These bowls are collected with honor by Tibetan in Tibet and Nepal especially for us. Note: Each Bowl is unique and weigh differently and as such must be priced individually.
Size: 9 to 10" diameter x 3.5 to 4" tall
Subject to availability: prices range from $425.00 to $550.00 in this size range.
(pictured is an example of what may be available)